Spice Up Your Dull And Boring Desk Using Inwaya
Tired of your monotonous study desk or work place? Inwaya will surely spice up your dull and boring desk while allowing you to keep a check on time at all times as well.If you are from the era of cassette tapes and time pieces then Inwaya will make a special place in your heart because it is a character whose head is made with cassete tapes, eyes with clocks, body with metal and it also has magnets with which you can stick it.
Wanye Campbell is the mastermind behind the creation of Inwaya, by the use of old cassettes he made something which represents art, is functional, expresses culture and even looks super cute on the desk. Inwaya is a perfect merger of art, times pieces, metal wire and magnets. The outcome that you get is super cute and looks adorable on the table. People who will visit you will surely ask you about it.
The cool thing about this is that various brands who want to promote their brands can promote their brands through Inwaya. Also, the characters can be customized because they have interchangeable graphics so they can used for the promotion of any brand. The backs of the cassettes which are the heads of Iwana can also be branded.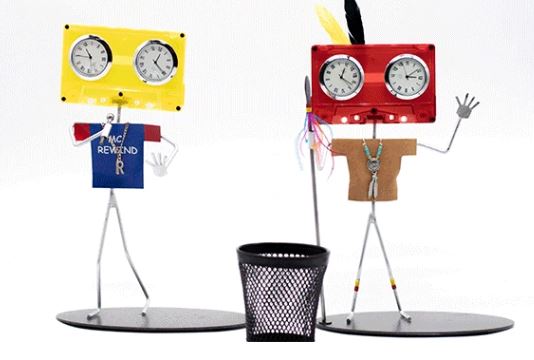 Some of the key features of Iwana include, style, retro looks, humor, function, practicality and even unique personalities. The goal of the creator was to come up with something which represents art, humor, and shows a connection between the buyer and the artist. Iwana comes in four different designs;they can be customized with the interchangeable magnets. The clocks are customizable with different colors, images and even logos. So, when you get your hands on one, you can make it reflect your personality. You can add images, logos and colors that are meaningful to you.
This cute little character can be used personally, you can put it on your desk while you are studying or while you are at work. You can even use this little character for promotion of your brand, or gift it to someone who is fond of cute things.
The character desk organizer includes the following things:
Cassette tape
Button cell watch batteries
Quartz analog clocks
Wire formed animated figure
Rubberized non-slip display
Pen and pencil organizer
Why is Iwana different than other desk accessories?
Handmade:
All the characters that are made are handmade, even the metal wires that are used also soldered to different shapes with hand.
Iwana characters are lightweight so it super easy to place them anywhere you like. Obviously, no one bulky and heavy things on their desk. You can carry them easily as well.
The desk clock tells you dual time and with the help of the clock you always know time so you never miss any deadlines. You are always on time.
The characters are unique and you can even add meaningful images or colors them to make them reflect you.
Made with real cassette tapes:
These characters are made with real cassette tapes, so if you are someone who is or was into cassette tapes will surely love these.
The characters are wearing custom jewelry, which looks super cute. You can even add something that holds meaning to you onto these characters.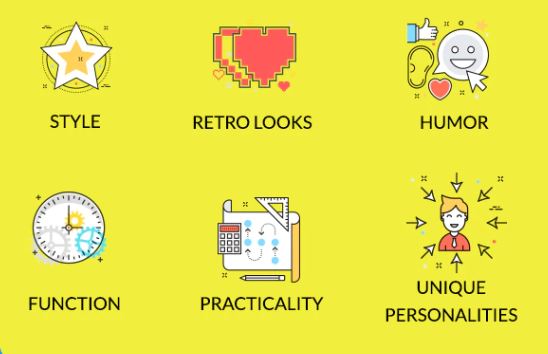 Iwana is great for desks of the people who work in offices, for students' study tables, craft room or even children's play room or study room. The characters are Mc Rewind, Ghost shadow, super bad and lightning bolt. So, out of these four you can choose any that you like.
Iwana is ideal for you because you can keep a track of time, it will represent your personality, you will be able to view multiple time zones at one point, it is light weight and has a compact size. The best thing is that it supports handmade art, so if you buy this, you will be showing support to the artist who created this and also encourage handmade art.
We are sure that you will definitely enjoy these cute characters lying on your study or office desk.