What is the 911 alert app?
911 alert app is a new app designed for smartphones. When you dial 9-1-1 from your smartphone this app will send a text to 10 designated contacts. The contacts you have added into the emergency contact list will be notified about your location and they can start to chat with each other through this app.
Why this app was invented?
In 2018, the inventor of 911 alert app, Steven WanDyke and his family was hit by two emergencies. The first victim was his sister when she was on family vacations, suffered a massive stroke. After two months, a cousin of his wife suffered a heart attack. His sister was lucky enough that she had family along with him and her life was saved but cousin died en route to a hospital. So he decided to design such an app so that this should not happen again to someone.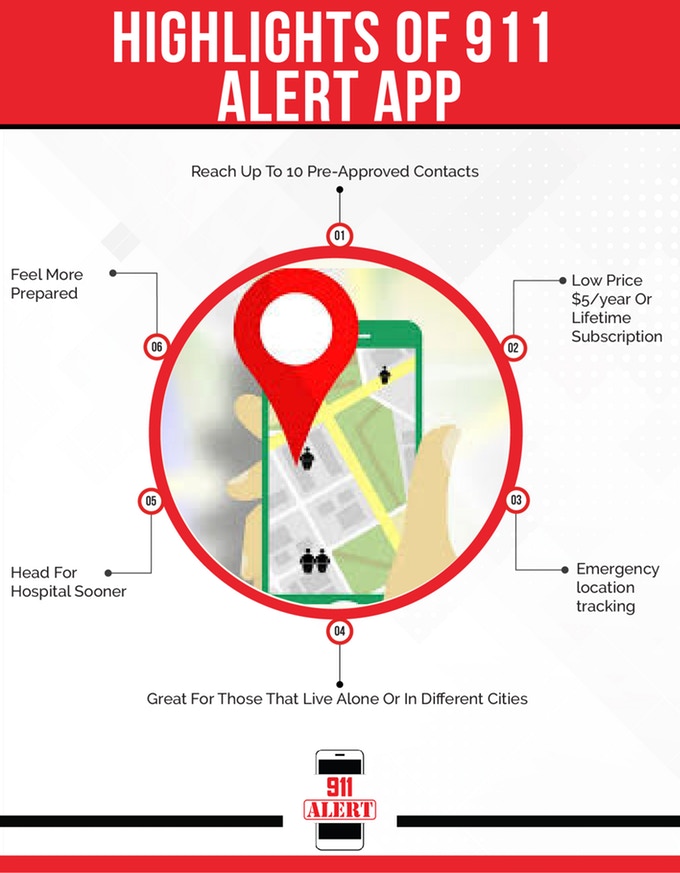 About 911 Alert app
This app will add a little extra security to your life. This app is designed in such a way that it will send a text to your ten preset contact when in an emergency you call 911. The main issue is if we are facing an emergency it could be an accident, or kidnapping case and our beloved ones are not around us. We can simply contact all by calling through 911 alert app. It has the features to allow families to be in contact instantly. This is an App that Quickly Alerts Family & Friends When You Call 911.
Advantages of 911 alert app
Amazing price just $5/yr.
Mental satisfaction and peace
Your kids will be more independent
Your safety is increased
Time and money is saved
You will reach hospital to company your beloved ones
Consistent communication
Everyone of your emergency contacts is aware of the situation
This app is ideal for
In case of emergency, this app will allow you to communicate with your ten added contacts. And those ten can communicate with each other as well. Another situation is when you are under threat from any third party, this will send a silent message to your contacts and they will be aware of your current location.
It has a price of just $5 for an annual subscription. Because of the low price this app is affordable for all. This innovative app has changed the people approach towards emergency and preparedness for it. If you are living alone and your age is above 65 this app is an ideal choice for you.
This app is scheduled to be launched in fall 2019. So get ready to buy a subscription for yourself and for your loved ones.
911 alert app is designed for
People who work alone
People who live alone
For women and parents
Elder one above the age of 65
Families settled in different cities
Children living in hostels
Outdoor enthusiasts
This app is designed to set an instant connection between the 9-1-1 caller and the contacts he has chosen. Kickstarter for this app will be launched in May 2019 and this app will be officially launched nationwide in November 2019. So get ready and don't forget to buy a subscription for you and your beloved ones.