5 Qualities needed to be a good call centre agent
Agents are the face of a company or an organization that the customers interact with whether it is an outbound or inbound call, if a customer had a bad experience with a call centre agent, it will affect the company or the organization directly. Call centre agents have one of the complex and challenging jobs in the industry. Agents need to find the right balance between satisfying customer needs and following company guidelines. Every call the agents attends is different from one another and agents need to have a set of skills to resolve each customer's issues.
Hiring agents that fit a company's needs are difficult to find in a limited time. Companies like Voiz can provide the right agents at any point in time.With a flexible and scalable workforce in hand, companies from small to big can find agents for deployment at any given point time.
Here are five qualities that will help an agent become better
Patience
In contact centres patience is the time taken to listen to the customer's issues, every customer cannot explain their issue in a given time, some customers take long, and others a short time. Also, a customer's mood differs from one to another, with patience agents will have the ability to listen to angry to calm customers and resolve their issues. Call centre agents should have thick skin and a staggering amount of patience since a frustrated customer might say words that may affect an agent's state of mind. Patience is a skill that is not present in everyone but can be developed over time in employees.
Communication
Communication is one of the important skills that every agent counts on all day every day. The conversation between the agent and the customer should have a purpose and able to fulfill the customer's issue or query. Agents should have a vast selection of vocabulary and phrases at his/her disposal while interacting with customers. Not every customer will be able to explain their issue precisely, so an agent should ask questions back and forth to understand the issue completely. If the agent figures out the issue, confirm with the customer and proceed to resolve the issue.Not everyone is fluent in English and sometimes companies require agents to know multiple languages for their multilingual customers. Voiz provides agents who speak multiple languages which can help improve communication.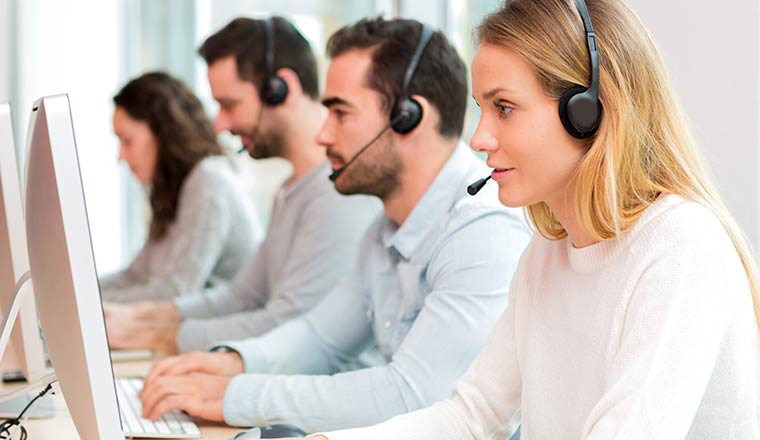 Organization Skills
Agents in the contact centre strive to be accessible and responsive while cycling through multiple tasks. Some of the tasks in the call centre include checking CRMs, Call follow-up, taking notes, updating customer records, and many others. This can sometimes make it difficult for agents to stay on top of the relevant calls or answer the question. A well-organized agent can plan the tasks he/she has to complete and deliver them on time.
Friendly behaviour
Agents should have friendly behavior so they can be approachable to the customers. Agents should have empathic character traits so that they can understand the customers at an emotional level. Customers will feel more comfortable while interacting with friendly agents. All customers will not have the same type of behavior but agents should have a warm and positive attitude no matter what the circumstances.
Efficiency and Speed
A company or an organization usually assumes that its contact centre agent will be able to solve the customer's issues and questions in a limited period. A contact centre agent must be a fast learner and be able to manage a large number of calls within a short amount of time. The call volumes in the contact centres are varying throughout the year. The Agent must be able to resolve their issues while retaining the quality of the service offered. The job of the call centre agents can be quite challenging. VOIZ is a CX marketplace where you as a business can hire the right CX agents based on skill levels, language proficiency, and CX experience. As an agent, you can start your career, apply for CX gigs, and get paid. The best part is its remote work.